NFL Greats Helmet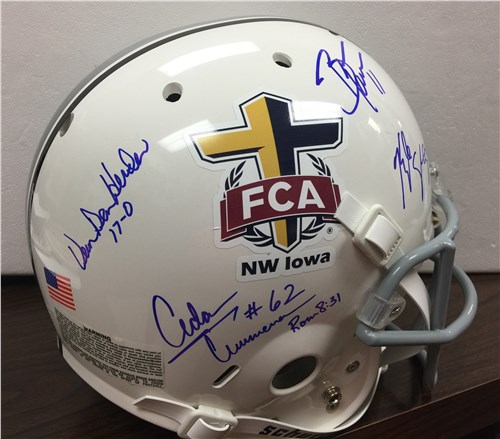 This helmet, signed by local NW Iowa NFL great Vern Den Herder, Kyle Vanden Bosch, Adam Timmerman and Brian Hansen exemplifies that greatness, character and faith do exist in the NFL. All four of these men are strong supporters of the Fellowship of Christian Athletes. This authentically signed keepsake will look great in your mancave!
This item is available in the audible auction.
Donated by
Kevin & Karen Brasser, Paullina, IA
How to bid
You can bid on this item at the Scholarship Auction on Saturday, FEB. 9, 2019. The silent auction and buy-it-now starts at 9 a.m. and the first section closes at 9:45. The audible auction starts at 11 a.m.
---