Sage Band "A"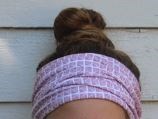 This girl's headband was made by Western Seminar students, Sayde Anderson.
Restrictions: See sagebands.com for more info.
This item is available in the silent auction.
Donated by
Leah Wielenga, Holland, MI
How to bid
You can bid on this item at the Scholarship Auction on Saturday, FEB. 9, 2019. The silent auction and buy-it-now starts at 9 a.m. and the first section closes at 9:45. The audible auction starts at 11 a.m.
---