My Chiro Cervical Support Pillow "A"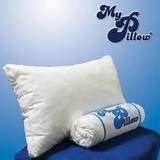 This is the professional model of the popular "My Pillow". Excellent support for the neck and upper back in any sleep position. Pick up the proper size with this certificate at Stange Chiropractic.
This item is available in the silent auction.
Donated by
Stange Chiropractic Clinic, Orange City, IA
How to bid
You can bid on this item at the Scholarship Auction on Saturday, FEB. 9, 2019. The silent auction and buy-it-now starts at 9 a.m. and the first section closes at 9:45. The audible auction starts at 11 a.m.
---