Ring Chime for Ring Video Doorbell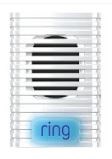 Plug Ring Chime into any standard power outlet, and it gets instant alerts anywhere in your home. Connect it to your Wi-Fi network and link it to all your ring devices. Ring chime has a volume control which can be adjusted directly from the free Ring app. It also includes a Do Not Disturb mode which disables alerts anytime so you can get some peace and quiet.
This item is available in the silent auction.
Donated by
Holli and Brian Jans, Sioux Falls, SD
How to bid
You can bid on this item at the Scholarship Auction on Saturday, FEB. 9, 2019. The silent auction and buy-it-now starts at 9 a.m. and the first section closes at 9:45. The audible auction starts at 11 a.m.
---