Season Pass to NWC Theatre Productions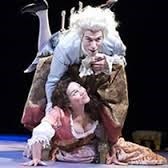 Get a backstage pass to.....a world of spectacular theatre, right in our own backyard! The Northwestern College Theatre Patron Board would like you to join us for the 2019-2020 theatre season. This season pass for two includes tickets to all of the shows and an invitation for 2 to our annual dinner in the spring.
This item is available in the audible auction.
Donated by
NWC Theatre Patrons, Orange City, IA
How to bid
You can bid on this item at the Scholarship Auction on Saturday, FEB. 9, 2019. The silent auction and buy-it-now starts at 9 a.m. and the first section closes at 9:45. The audible auction starts at 11 a.m.
---