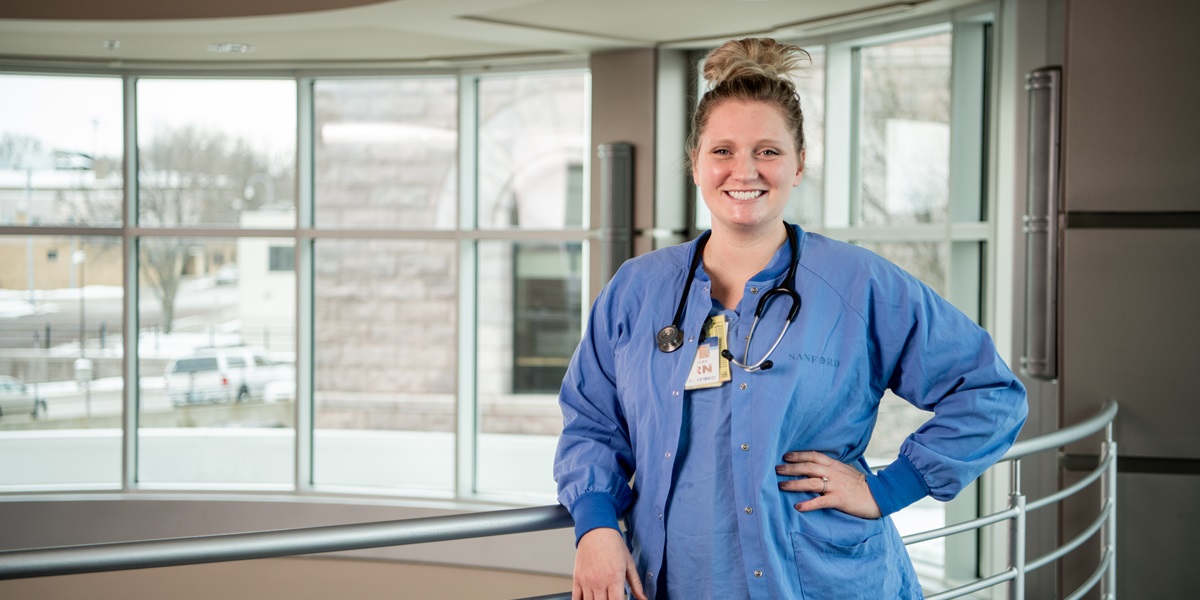 Nurturing Nurse
Nurse Alex (Brower '14) Overweg says she wants to be known for loving people well and being an encourager.
She's meeting that goal, according to Abby Brock, who works with her at Sanford Health in Sioux Falls. "Alex's positive and uplifting attitude is contagious," says Brock.
For her impact on those around her, Overweg received Sanford's 2020 Patricia Van Wyhe Nurse of the Year Award.
Overweg is the manager of Sanford's Post-Anesthesia Care Unit (PACU) and Patient Center, where she and her team help patients coming out of surgery move on to their next phase of recovery.
"I work with a great team and great leaders," she says. "I like the huge variety we see in patient acuity and concerns, because it keeps me learning. It's fulfilling to be able to recognize needs, find solutions and serve people at critical times in their lives."
Overweg, who began working for Sanford while still in college, says she felt very prepared for her nursing career. "I got great clinical experience that prepared me for my first job. Northwestern did an excellent job!"
As she seeks to positively influence those around her, Overweg draws inspiration from her experience at NWC. "Coaches, professors, staff and friends all invested time and energy into me and helped me grow into the person I am today. I'm very grateful."