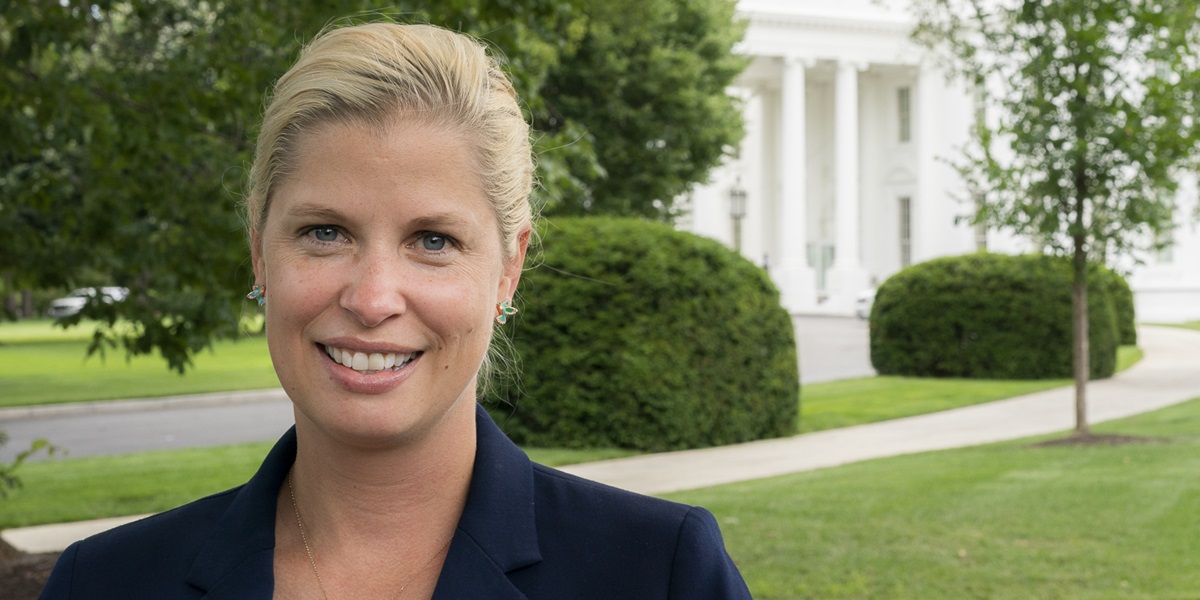 Doctor in the (White) House
A Summer of Service experience in Ghana shaped the career trajectory of JoAnna Jackson '02. A biology-health profession and chemistry major, she wasn't sure what to do with her love of science until she volunteered with the Luke Society at a hospital in Kasei.
"It's definitely the reason I'm a physician," says Jackson. "God planted in my heart an amazing dream to do overseas missions, and it has affected the rest of my life."
After graduating from medical school in Kansas City on an Air Force scholarship and completing an emergency medicine residency in Chicago, Jackson worked as an ER physician at Langley Air Force Base. Her overseas medical work was as the first Air Force doctor on a Tactical Critical Care Evacuation Team, providing direct care to more than 50 seriously wounded soldiers in Afghanistan over seven months. She later trained as a flight surgeon and was assigned to Fort Bragg, from which she deployed to Iraq for three months.
Jackson's current military assignment is something else she couldn't have envisioned as a college student. Since September 2017, the lieutenant colonel has been stationed at the White House, one of eight military doctors charged with providing worldwide emergency response and comprehensive medical care to the president, vice president and their families. The team also provides emergency coverage for people touring the White House and guests of the president.
As part of the White House Medical Unit, Jackson has traveled to 12 countries providing medical coverage for the president, vice president, first lady, second lady and President Obama. She says one of the highlights was standing just feet away from Presidents George H.W. Bush and George W. Bush—as well as the Clintons, Obamas and Condoleezza Rice—at the funeral of Barbara Bush.
"This is a bigger dream than I ever had. I definitely never knew the plan God had for me; I just knew I was called to follow Christ," says Jackson, who was honored as Northwestern's first recipient of the Standout Young Alumni Award during Raider Nation Celebration in September. "The people I have met and work with are all truly amazing human beings."
Wearing a suit instead of a military uniform, Jackson typically experiences much more sedate days as a White House physician than she did when deployed overseas. But she and her colleagues need to be ready to provide life-saving medical intervention at any moment, so they undergo frequent training.
Working in a clinic that overlooks the White House's south lawn, Jackson says she feels the weight of her position every day. "My prayer is to be a light and encouragement to the people I work with," she told students during a Northwestern chapel in 2018.
Jackson says the reason she's still in the military is her experience on the Tactical Critical Care Evacuation Team (TCCET), which was developed because damage-control surgery started happening more frequently in forward locations during the war in Afghanistan. Patients were often on ventilators, requiring an ICU level of care during transport.
"I was in the right place at the right time and volunteered," Jackson says about her involvement. "I was pretty fresh out of my ER residency, where I received amazing trauma education. I went through several military courses prior to deployment with regard to air transport and combat skills.
"Though it was difficult seeing our injured soldiers, the deployment was the most rewarding experience. I witnessed how all the branches work cohesively together for the mission, and I was able to make a difference in the lives of several seriously wounded service members."
One of them was Donny Eslinger, a 19-year-old soldier who sustained life-threatening injuries as the result of a mortar attack in 2011. He suffered a traumatic brain injury, a severe chest wound, punctured lungs, broken ribs, a broken leg and kidney damage. Jackson kept him alive as he was medevaced to Khandahar.
A few years later, while Jackson was speaking about the TCCET approach at a conference, Eslinger walked on stage.
"It was amazing to see a seemingly completely healthy young man," says Jackson. "His story is truly a miracle and testament to the men and women in military medicine."
Back in Washington, Jackson doesn't know where she'll be when her White House term ends in the fall of 2020. "I don't know where God will lead, but I know he will. I just want to be faithful to the vision God has given me."