Athletic Training M.S. How to apply
Next start June 2022 | Credits 57 | Cost/credit $525 | Program length 2 Years (6 semesters) | Format In-person
This program is no longer accepting applications. The Master of Science in Athletic Training program has voluntarily withdrawn accreditation by the Commission on Accreditation of Athletic Training Education (CAATE). Interested students can find other Northwestern programs available on the graduate and adult learning and undergraduate majors and programs lists. 
Applicants for Northwestern College's AT program must complete the following steps to be eligible for admission:
Step 1
Review prerequisites
Applicants must meet the prerequisites to be eligible for the AT program. For a complete list, including courses, review the prerequisite page.
Baccalaureate degree from a regionally accredited institution or internationally recognized equivalent
Overall and science GPA of 3.0 or higher on a 4.0 scale.
Completion of prerequisite courses with a C or better in each course

These courses must be completed at a regionally accredited institution
Six of the nine required courses must be completed by the time of application

Minimum of 50 hours of athletic training exploration with a certified athletic trainer

30 hours need to be met at the time of application and a submitted plan of completion for the remaining hours

Submit two letters of recommendation (one from the athletic trainer who oversaw the majority of exploration hours and one from a professor in a major or science course.)
Meet the AT Program Technical Standards
If an international applicant, submit a Test of English as a foreign language (TOEFL) score
(Read more detailed information for international students.)
Step 2
Apply - Application open June 30, 2021
Complete the ATCAS online application 
The program accepts students on a rolling basis. All application materials are due December 31, 2021.

Applications will be evaluated by the AT Program Admissions Committee by assessing each applicant's:
Academic record (overall and science GPAs)
Personal narrative
Supplemental application responses (Northwestern College's questions)
Professional recommendations
Athletic training observational experiences
No application fee!
 
Northwestern College's MSAT program operates on a rolling admission process.

The MSAT program accepts applicants on a rolling basis. We recommend submitting application materials early in order to ensure your application is processed and considered for your seat. The program will interview and admit students until the cohort is full. Students may be placed on the waitlist based on the number of applications and the strength of the student's application. Students on the waitlist will be contacted no later than February 15 on his/her status. Students with strong applications and academic credentials will be invited to complete the second phase of the admission process, which includes an on-campus interview. If an on-campus interview is not possible a virtual interview will be completed.
All application materials must be submitted by the program's December 31, 2021 final application deadline.
Step 3
Interview
Personal interviews will be conducted following the review of an applicant's application material. Onsite interviews are preferred; however, if not possible a virtual interview via Zoom will be conducted.
Step 4
Post-acceptance requirements
Interviewees will be notified of admissions decisions within four weeks of the interview. Applicants who are accepted into the program will be required to reserve their seat within ten days of this communication through a $250 non-refundable tuition deposit. Details regarding this payment will be provided with the acceptance letter.

Initial acceptance to the program is conditional on successful completion of the following post-acceptance requirements, which must be completed by the start of classes on June 1 of the year of enrollment:
Technical Standard Attestation Form
CastleBranch Background Check, Drug Screen & Immunization and Health Information documentation
Complete OSHA Training and HIPAA Training through CastleBranch
Health insurance documentation
Official transcripts submitted to Northwestern College for all undergraduate coursework
Applicant acceptance documentation
Step 5
Begin orientation
An orientation will be held prior to the start of classes for enrolled students. 
---
Guaranteed application process for Northwestern College graduates
Admission to the NWC MSAT program is competitive, and the Northwestern College MSAT program plans to accept approximately 15 students per year. Any Northwestern College graduate who completes all application materials and meets all admissions criteria will be granted a guaranteed spot in the Northwestern College's MSAT Program.
---
International students
Northwestern College welcomes applications from international students. In addition to the specific admissions criteria for the program of interest, students whose native language is not English must demonstrate language proficiency using an English proficiency test. Northwestern will accept scores from the TOEFL and IELTS. TOEIC scores may be considered. A minimum TOEFL score of 79, or a minimum IELTS score of 6.5, is required for admission. Students applying to programs that require specialized licensure as an admissions requirement will require proof of comparable licensure in their country of origin. Some programs with specialized licensure requirements may not be open to international students. Read more detailed information for international students. 
---
Accreditation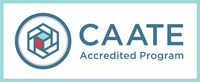 Northwestern College is accredited by the Commission on Accreditation of Athletic Training Education ( CAATE) for the Master of Science in Athletic Training program.