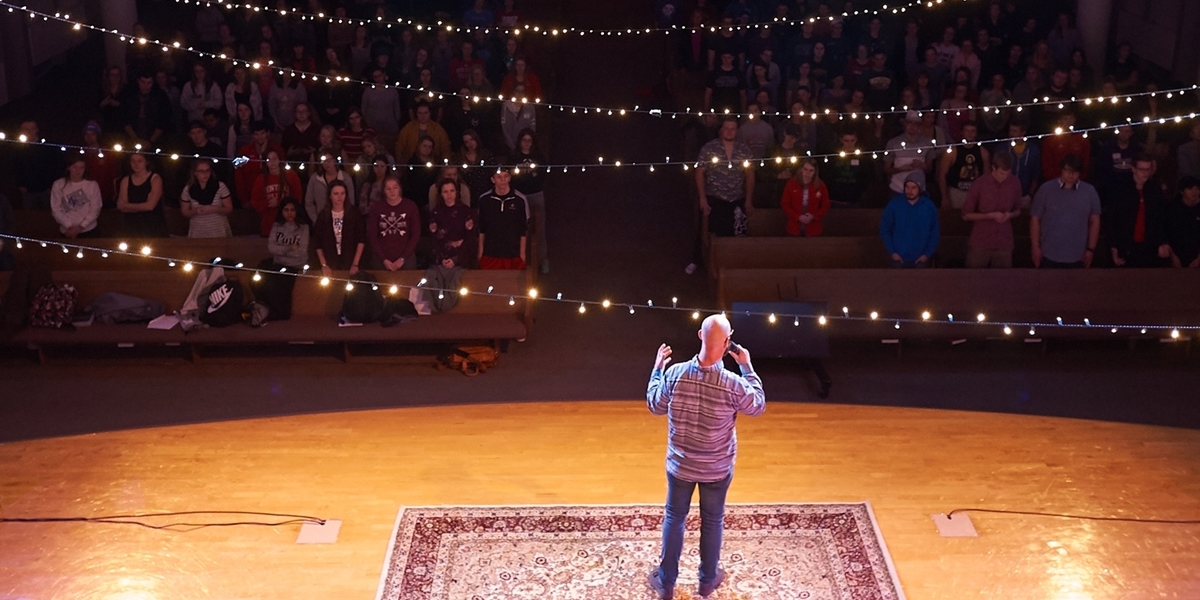 The Art of Christian Leadership Faithful influence in a secular age
Tuesday Oct. 1 | Noon to 5 p.m. | $45 (includes lunch)
Join us on Northwestern's campus for The Art of Christian Leadership, a conference for any leader who longs to deepen your Kingdom impact in contexts that are increasingly secularized and polarized. This conference is for:
COMMUNITY LEADERS who long to deepen their capacity to thrive in the midst of a polarizing culture. How best do we dignify difference and build belonging with those around us as we consider multicultural engagement.
CHURCH STAFF LEADERS who want to missionally inspire their congregation to seek the welfare of the community. Learn how language, liturgy and the courage to take risks are essentials to participating in what God is doing.
VOLUNTEER LAY LEADERS who feel fragmented, hurried and fractured. Equip yourself with tools to lead from a place of wholeness.
Any LEADER who is seeking fresh Christ-centered insights about how our historical and traditional perceptions of institutions are viewed through the lens of secularism.
Keynote

DR. ANDY ROOT
A youth and family ministry professor at Luther Seminary in Minnesota, Dr. Andy Root is a leading thinker on Christian leadership in a secular age. His keynote will explore a historical perspective on the separation of sacred and secular as well as the increasing convergence (or confusion) of sacred and secular in today's culture. Trust and interest in institutionalized faith seems to be waning. Yet Christian institutions continue to operate according to sacred/secular paradigm that's no longer relevant. Root will offer a way forward for Christian leaders who seek to be a faithful influence in both sacred and secular contexts.
Workshop options
Jeff Barker
Theatre and Worship Arts professor
Northwestern College
For Worship Leaders: Is the Bible on your Lead Sheet?
Who is in charge of modeling effective public presentation of Scripture Sunday after Sunday?
Martha Draayer
Hispanic Community Liaison
Northwestern College




Alex Vasquez
Director
Young Life, Sioux Center, IA
Cultivating Bridge-Building Leadership
What conditions foster culturally flexible leaders and multicultural relationships? In a diverse community, our target should be cultural flexibility where we hold onto our roots yet have the ability to connect with other ethnic groups. Learn how cross-cultural competence is an essential part of successful leadership.
Julie Elliott
Vice President for Student Life
Northwestern College
Christ & Culture in a Secular Age
In his influential 1951 text, Christ and Culture , H. Richard Niebuhr called Christians to transform culture. At that time, the church enjoyed high levels of influence and power, so achieving this call seemed within reach. But in the present secular context, is cultural transformation a realistic or worthy goal? If so, how must our mission adapt to our moment?
Rahn Franklin
Director of Intercultural Student Development
Northwestern College
Leading with CQ (Cultural Intelligence)
How do you effectively lead a team representing multiple cultural backgrounds? How do you get feedback from a colleague whose culture values saving face above direct, straightforward feedback? How can you possibly keep up with all the different cultural scenarios that surface in our rapidly globalizing world? Answer: By developing your cultural intelligence.
Chris Godfredsen
East and West Sioux Classis Leader
Reformed Church in America
Leading with EQ (Emotional Intelligence)
In the midst of anger, frustration or anxiety, have you ever asked yourself, "Why do I respond to certain situations like that?"  We all have moments when we "show up" to a situation opposite of how we'd be on our best day. Emotionally healthy leaders are aware of their triggers and can learn how to respond in healthier ways by growing their emotional maturity.
Amy Keahi
Director
ATLAS,  Sioux Center, IA
The Hidden Power of Vulnerability
Do leaders always have to be strong? Might God use your past and current hurts to help you to become a more effective leader? Are there times and places when it's appropriate to be vulnerable with the people we lead?
Brian Keepers
Pastor
Trinity Reformed Church, Orange City, IA
Tell 'Em a Better Story, Preacher!
We are bombarded with a cacophony of competing narratives, all clamoring to tell us who we are, why we're here, and what gives our life meaning and purpose. The stories we tell and believe have a profound impact on the way we live in the world. What if the task of preaching in a secular age isn't about "defending the Bible" or dispensing spiritual advice but inviting people into a better and truer story—the story of the triune God on mission in and for the world?
Cy McMahon
Pastor
Granite Church, Hawarden, IA
Risking Everything Isn't Necessarily Risky
Our culture wants us to believe that failing makes us a failure. But failing can mean we are trying things that most people wouldn't, and doing things no one else is doing may be the key to reaching people no one else is reaching.
Erica Vonk
Business professor
Northwestern College

Are you Searching Under a Streetlight?
When you need insight or new ideas, where do you look? Are you searching under the streetlight—within your comfort zone, inside the box? We need to let go of the illusion of control and seek answers in new, sometimes unfamiliar places. 
Schedule
11:05 a.m.
Christ Chapel
Dr. Andy Root
Optional: Conference attendees are invited to participate in campus worship, led by Dr. Root
11:30 a.m.
DeWitt Learning Commons
Conference registration open
Noon
Vogel Community Room
Lunch + keynote
Dr. Andy Root
1:15 p.m.
Workshops, Session 1

2:10 p.m.
Workshops, Session 2
3:05 p.m.
Workshops, Session 3

4 p.m.
Vogel Community Room
Coffee + Q and A with Dr. Root
4:30 p.m.
Christ Chapel
Closing worship experience