Northwestern College physician assistant graduates record 100 percent exam pass rate
Wednesday, October 4, 2023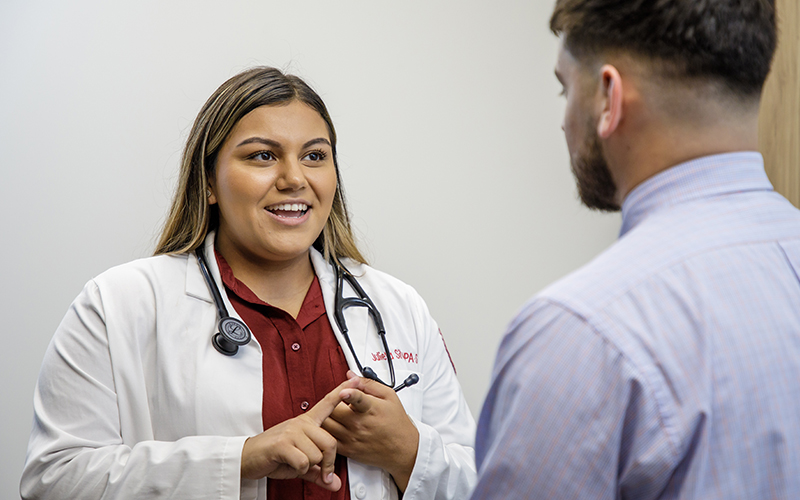 Northwestern College's latest physician assistant graduates have recorded a 100% first-time pass rate on the Physician Assistant National Certifying Examination. All 29 of the physician assistant students who graduated in August passed the exam on their first attempt.
"An accomplishment like this is a goal that the program sets out to achieve with each cohort and is what our faculty and students dedicate their time preparing for," says Jill Van Otterloo, director of Northwestern's physician assistant program. "We're thrilled to achieve this with our second graduating cohort."
Van Otterloo cites several factors for the physician assistant students' success. "Our students have excellent work ethics, putting in countless hours to learn the rigorous course material in just 27 months. Our faculty go above and beyond to support students academically, professionally and personally. We truly want each student to be successful. In addition, our students learn in top-notch classrooms and skills labs, have access to medical resource subscriptions and receive great clinical rotation placements—all of which enable our program to prepare students well."
Northwestern's 2023 physician assistant graduates have been hired by Gunderson Health System in La Crosse, Wisconsin; Dr. Dean & Associates in Sioux City, Iowa; Johnson County Dermatology in Olathe, Kansas; and Orange City Area Health System, among others. The alumni are working in family practice, trauma surgery, psychiatry, dermatology, otolaryngology, neurosurgery, gastroenterology and emergency medicine.
Northwestern offers a master's degree in physician assistant studies, an on-campus graduate program that has received Accreditation-Provisional status from the ARC-PA. The program's first cohort also achieved a 100% all-time exam pass rate. In addition to state-of-the-art classrooms and skills labs, the college's facilities include small-group study spaces, five mock clinic rooms, a traditional donor lab and virtual cadaver tables.
---
Northwestern's master's degree program in physician assistant studies gives students practice-based training to prepare them to provide exceptional, compassionate health care in a variety of settings.