Dr. Valerie Nyberg Master of Education Instructor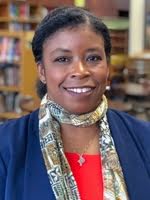 Education:
Ph.D., University of Iowa
M.A., Western Washington University
B.A. Western Washington
With over 20 years of experience in education, Dr. Valerie Nyberg has served in various positions as a classroom teacher, project director, associate principal, and principal. Most recently Dr. Nyberg worked as a grant writer for the Ames Community School District. In 2019, she was awarded the Assistant Secondary Principal of the Year by School Administrators of Iowa.
In 2022, she launched Liminal Education Consultant, specializing in creating a framework for implementing trauma-informed, restorative practices at the center of school climate and culture. In that role, she works with school leaders to create a clear and cohesive vision, involving students, parents, staff, teachers, and community stakeholders. She also hosts a podcast, "Uncommon Voices, Uncommon Visions," which invites guests who work in the education sector to discuss topics within education.
Nyberg earned a Ph.D. in Teaching and Learning from the University of Iowa, an M.A. in English from Western Washington University, and a Bachelor of Arts in Education from Western Washington University.