Trauma Informed Conference
Thursday, April 2nd, 2020 | 8:30 a.m. to 4:00 p.m.
Northwestern College, Orange City IA
Get Directions |  View Campus Map
Cost: $90 | Group rate: $75 (6 or more) | lunch included 
Credit Available: 1 License Renewal credit $50 | 1 Graduate credit $150    
3rd Annual Trauma Informed School Conference 
The one-day conference offers training for PreK-12 school administrators, counselors, teachers, educational support staff, social workers and anyone who works with others who have experienced trauma. Gain a better understanding of the impact of traumatic events and behavior outcomes in students and learn the most current strategies and tools needed to create a trauma-informed learning environment. 

Trauma impacts a student's learning, behavior and relationships at school and beyond. By developing a better understanding of trauma, its impact and signs, schools can create safe, empathetic and supportive learning environments for all students. 
Breakout session topics
ACES Awareness
Post-traumatic Growth
Adoption and Trauma
Brain and Behavior
Therapeutic Yoga
Group discount 
Bring your team of 6 or more for the discounted group rate of $75 for each attendee.
Register individual     Register group
Register by March 30th.
Please contact online@nwciowa.edu or 712-707-7388 with questions about the conference, registration or if you would like to be a vendor for this event. 
Keynote

Angela Maiers
Angela Maiers is a world-renowned author, entrepreneur, international keynote speaker, and educator, whose transformative message of the importance of mattering has the power to unleash the genius in us all. She has been creating and leading change in education and enterprise for 31 years, teaching every level of school from grade school to graduate school and consulting with companies around the world. 
Angela founded Choose2Matter to bring the world hope by helping every individual embrace their value and potential contribution. Initially launched to challenge and inspire students to work collaboratively to develop innovative solutions to social problems, Choose2Matter has evolved into a movement that supports parents, educators, and employees around the world.  Learn more about Angela
---
Conference Partnership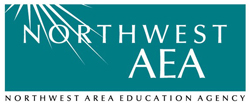 This conference is offered by Northwestern College's Education and Graduate & Adult Learning departments in partnership with the Northwest AEA.