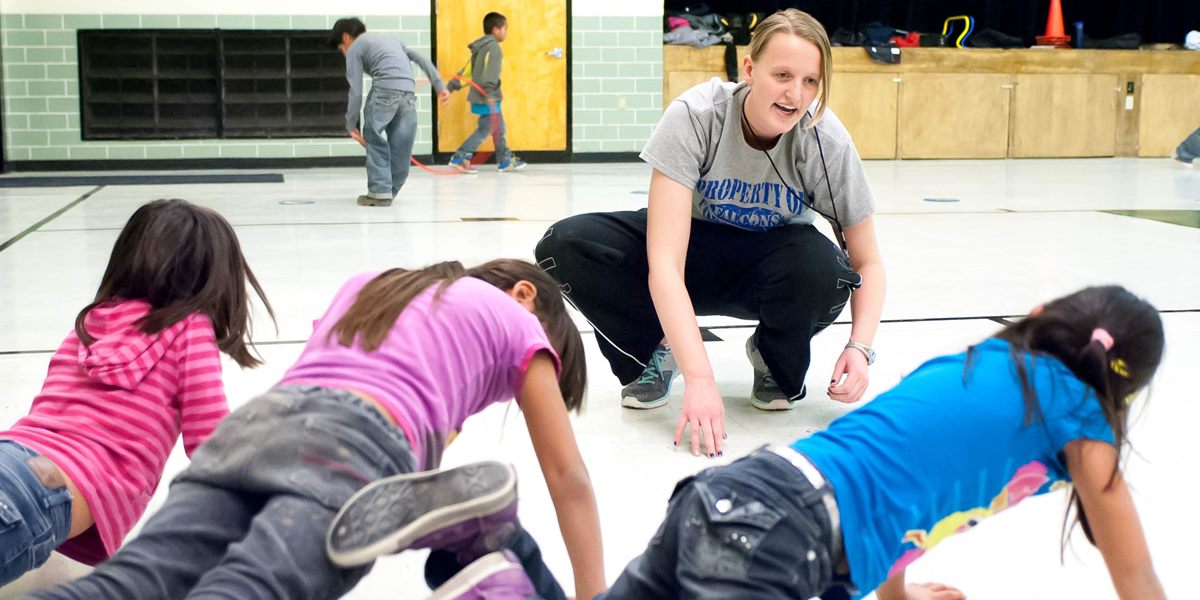 Adapted PE Conference
Tuesday, March 12, 2019 | 8:30 a.m. to 4:30 p.m.
Bultman Center, Northwestern College
Cost: $65 | lunch included 
Optional credit: 1 License Renewal credit $50 | 1 Graduate credit $150    
Active Inclusion for All
Many students have needs that make active participation difficult, especially in an integrated physical education setting. The challenge for educators is to meet the needs of all students with an effective PE program.

The one-day Adapted PE Conference offers teachers hands-on training and strategies to implement immediately into a physical education program. Educators will leave better equipped to address student's needs that may include movement delays or difficulties, physical or neurological disabilities, health and physical factors, social-emotional disorders, behavior difficulties or cognitive delays. Attendees will learn skills from the perspective of adaptive specialists as well as practical steps for launching an adapted PE program.
Registration closes March 8th.
Please contact  online@nwciowa.edu or 712-707-7388 with any questions or to inquire about late registration. 
---
Speakers
Keynote: Kevin Negaard 
Founder and board president, Miracle League of Sioux City 

Kevin Negaard is the founder and board president and of Miracle League of Sioux City, Iowa. A Rock Valley, Iowa, native, Kevin graduated from the University of Iowa with a degree in physical education. After college, he launched the Western Pennsylvania Sports Medicine Clinic and later worked 25 years at CNOS (Center for Neurosciences, Orthopedics & Spine) in Dakota Dunes, S.D.

Kevin's passion for baseball and individuals with disabilities began in his youth. After years of playing and coaching baseball, he combined the two passions in the Miracle League project in 2013, providing opportunities for active participation for all children. The Miracle League complex has grown to include a baseball field, playground and mini golf course. The organization will welcome more than 150 Miracle League players from around the world as the host for the 2019 International Miracle League All-Star weekend.

Sue Tarr, PhD
Coordinator, Developmental Adapted Physical Education (DAPE) Program, MSU, Mankato 


Sue Tarr received her MA in adapted physical education from Kearney State College (NE) and her PhD from Texas Woman's University in adapted physical education. She has trained physical education and adapted physical education teacher education candidates for the past 25 years, mostly in Wisconsin and Minnesota.

Sue is a past MN-SHAPE president and a current member of the MN Developmental Adapted Physical Education (DAPE) Leadership Team. She is part of the Minnesota Department of Education Leadership Team working on MN Physical Education Standards/Benchmarks projects (review of standards/benchmarks, training materials for K-12 teachers & schools). Sue has also been engaged in the Unified Physical Education movement; developing resources for Special Olympics International and presenting about Unified Physical Education across the countr.y

Greg Heemstra 
K-5 PE Teacher, Rock Valley, IA Elementary    

Greg Heemstra earned his BA in education from Northwestern and MA in HPER from the University of South Dakota. Greg has taught PE for 27 years, and is in his 29th year with the Rock Valley School District, currently teaching K-5 PE at the Elementary. He has also taught 5th grade. He completed a bachelor's degree in Elementary Ed and Health from Northwestern College. After attending the 2018 Adapted PE Conference at Northwestern, he was inspired to launch his own program to better meet the physical, mental and social needs of his students. He will share his implementation process and discoveries through a first-year Mentoring PE program.