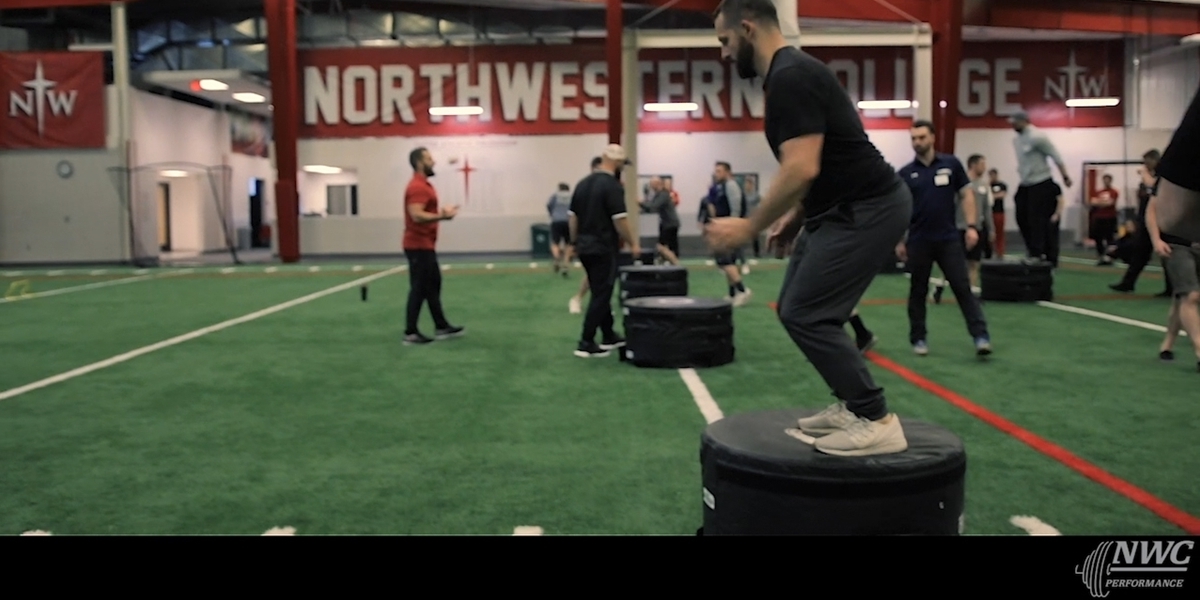 NWC Performance Clinic
Saturday, May 6th, 2023
8:30 a.m. to 5:00 p.m. Central Time
Juffer Athletic Fieldhouse, Northwestern College
Get Directions |  View Campus Map
In-person or virtual tickets are available
Registration Cost
February 1st - 28th: $50
March 1st - 31st: $75
April 1st - May 6th: $95
Students: $40       
The 6th annual Performance Clinic features human performance experts sharing cutting-edge information for professionals in strength and conditioning, personal training, physical therapy, coaching, physical education and others who work with performance athletes and active populations. Take away relevant strategies to effectively motivate and enhance their performance.
In-Person or Virtual 
Join us on-campus or live through a virtual broadcast. While we highly encourage everyone to join us in person, as it greatly enhances your ability to network with other professionals in the field, we understand that this may not always be a viable option. Simply select the option you prefer during registration.
Continuing Education Credit 

Approved for .5 CEU(s) by the National Strength and Conditioning Association (NSCA). 
Speakers and Topics
---
 

Dan John     
Coach and Author, Murray, UT

Dan John is a Senior Lecturer at Saint Mary's University in Twickenham, England. He has been lifting since 1965 and has won national championships in the discus throw, Olympic lifting, Highland Games and the Weight Pentathlon.  He recently was awarded a Lifetime Achievement Award from Great Britain for his contributions in this field. A Fulbright Scholar, he has a vast experience in scholarship, academics, and athletics. Dan has advanced degrees in history, religious education, and has studied at University of Haifa, the American University of Cairo, and Cornell. His published works include bestsellers such as Never Let Go, Mass Made Simple, and Intervention (among a dozen other published works). He is the grandfather to three and continues to write, coach, train, and lecture to practically every fitness and performance level.

Session topic 1: Easy Strength
Session topic 2: The Art of Relearning as a Strength Coach


 

Logan Ogden, BS, MS, SCCC, CSCS, FRCms, USAW-1, RPR-2  
Director of Basketball Sports Performance, The University of Utah

Logan Ogden is the Director of Basketball Sports Performance for the Runnin' Utes men's basketball program at the University of Utah.  Prior to his time at Utah State, Ogden spent three years at Omaha as an assistant strength and conditioning coach for two seasons before being elevated to director of strength and conditioning in January of 2017. In that position, he directed all aspects of training for the Maverick men's and women's basketball, track & field and cross country programs.

He also spent two seasons as an assistant strength and conditioning coordinator at Augustana College in Sioux Falls, S.D., after serving as a graduate assistant at South Dakota State. While in Brookings, S.D., Ogden was responsible for the track & field, cross country, equestrian and cheerleading while assisting with men's and women's basketball, volleyball, baseball, softball and football.

A two-sport student-athlete at Northwestern College in Orange City, Iowa, Ogden participated in both track & field and football. In 2011 he earned NAIA All-America honors in track & field. Ogden was also a two-time GPAC all-conference selection in football. Logan graduated from Northwestern College in 2011 with a degree in exercise science before earning a master's in exercise physiology and human performance from South Dakota State in 2014.

Session topic: In-Season Training – Executing a Mircrodosing Training Model


Megan Denhof, MA     
Mental Skills Coach, Mentally Strong Consulting

Megan started her journey to sport and performance psychology as an athlete in high school herself where she was introduced to mental skills training. After her experience in high school, she knew performance psychology was something she wanted to pursue herself. She then attended Minnesota State University, Mankato where she received her B.S. in both Exercise Science and Psychology before pursuing an M.A. in Sport and Exercise Psychology.

Megan is also passionate about developing coaches as she feels coaches can change lives and make huge impacts on athletes and performers of all ages. Megan is dedicated to helping the individual within the performer flourish and to educating all performers about the importance of mental training on well-being and enjoyment of sport. Megan is currently working towards her CMPC certification and her Psy.D.

Session topic: Utilizing Performance Psychology and Mental Skills Training to Enhance Athletic Performance 

Matt McCarty 
Head Football Coach, Northwestern College    

Matt has completed his seventh season as Head Football Coach at Northwestern College after serving as the program's defensive coordinator for 11 years.  The Raiders are 67-18 over the last seven years and have qualified for the NAIA playoffs for each of the last six seasons. Over the last three seasons the Raiders advanced to the National Championship game twice – finishing as National Runner-up in 2020 before winning the program's third National Championship in 2022. McCarty was named AFCA NAIA National Coach of the Year in 2022 and serves as 1st Vice President of the AFCA NAIA Football Coaches Association.

Session topic: Developing a Culture of Excellence

---
Schedule
If you're joining virtually, please note this event is in Central Time Zone
8:00 – 8:30 am

Check-in

8:30 – 8:40 am

Welcome 

8:40 – 9:40 am

In-season Training – Executing a Micro-dosing Training Model | Logan Ogden
In-season training for team sports can be one of the most difficult time frames to program in strength and conditioning. Balancing all the variables associated with training, practice, competition, and academic schedule can prove to be frustrating. Logan's session will highlight micro-dosing as a periodization strategy to maximize athlete development while managing the chaos of the competitive season.


9:50 – 10:50 am

Easy Strength | Dan John
Easy strength. The recipe to become stronger is not complex or complicated. It includes focusing on the fundamental human movements, keeping reps and sets low, & stopping your sets before you get fatigued. In this session, you will learn the basic movements to improve strength and how to program them in such a way to reap the greatest amount of benefit.


11:00 am – 12:00 pm

Creating a Culture of Excellence | Matt McCarty
Many can attain success. However, at times it can be fleeting or perhaps even misleading. By shifting our perspective to pursue excellence we position ourselves to fine tune the intricate details of mastering our craft and enhancing our performance. Better yet, it sharpens our character and constructs a healthy orientation towards winning. For most of us coaches, this all begins with how we lead our teams. During his time, Matt will examine the importance of a strong team culture of excellence as well as different ways to build a solid foundation and consistently grow a positive team culture.  

12:00 – 12:50 pm

Lunch | provided in NWC cafeteria

12:50 – 1:00 pm

Afternoon Welcome     

1:00 – 2:30 pm

The Art of Relearning as a Strength Coach | Dan John
Going back to the basics. In today's current training dynamics oftentimes focusing on the basics of resistance training is what works best. In this session you will learn how Dan John's movement matrix provides a simple yet effective way to achieve a desired goal. Additionally, Dan will unpack and expand on some critical concepts that he has developed throughout his years of coaching.


2:40 – 3:40 pm

Utilizing Performance Psychology and Mental Skills Training to Enhance Athletic Performance | Megan Denhof
Athletes spend numerous hours each day preparing themselves physically for sport performance. However, few athletes spend significant time preparing their minds for elite competition. Research has supported the positive influence of mental skills training on enhancing sport performance. Mental skills training can positively encourage the psychological development of athletes within the competitive sport environment. This session will outline the importance of utilizing mental skills training in sport, provide participants with an opportunity to engage with different mental tools, and provide recommendations for how to utilize mental skills training within sport.

3:50 – 4:50 pm
 

Rotating Round Table Q&A | Dan, Logan, Matt, Megan
During this session, we will invite Dan, Logan, Matt, and Megan for a moderated time of question and answer. During this time all attendees, both in-person and via livestream, will have the opportunity to ask questions and seek clarification or enter into a deeper conversation with our speakers. Live stream guests will submit their inquiries via Slido.


4:50 - 4:55 pm

Closing Remarks
---
Clinic Partnership
The Performance Clinic is hosted by Northwestern College Athletic Performance with support from the Graduate School & Adult Learning. 
Thank you to our clinic sponsors: Orange City Area Health System Sports Medicine, DeJong Chiropractic, Sorinex Exercise Equipment, and Optimum Nutrition Athletics.