Erica Vonk '00 Instructor in Business & Economics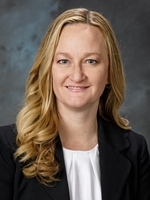 Education:
M.B.A., University of South Dakota
B.A., Northwestern College
712-707-7015
erica.vonk@nwciowa.edu
VPH 300B
Erica Vonk is currently pursuing a PhD in Organizational Leadership and holds an MBA from the University of South Dakota. She facilitates Leadership Sioux Center and volunteers with the Seahawks Swim Team. Erica has other work experience with operating an agriculture corporation, consulting with local businesses, having directed a Center for Economic Education, and having taught high school business, economics, sociology and technology. She is a Northwestern graduate, class of 2000.
BUS205 - Project Management
(2 credits) This course is an introduction to the field of project management. The main objective is to gain a basic overview of how project management is an art, a science, and a practice. Students will gain technical skills but even more importantly soft skills. Projects are about people, working with people, using skills like communication, working effectively in teams, interpersonal skills, time management, critical thinking, and organizational skills that are all highly valued by employers. The course will emphasize experiential learning and collaborative learning. Prerequisites: BUS200 or BUS201.
BUS210 - New Venture Innovation
(2 credits) This course is a foundational course designed to inspire and engage students in dimensions that drive new ideas as well as the methods and tools to develop innovation and problem solving. Students will address practical problems associated with starting a business, including a feasibility analysis. The focus is to empower learning through entrepreneurial thinking and immerse students in experiences that will develop skills for new ventures. This course will be of value to students of all majors and requires no specialized knowledge.
BUS305 - Organizational Behavior and Theory
(4 credits, alternate years, consult department) This course will review the major historical and contemporary themes and phases of organizational theory and behavior. The class will examine and discuss the evolution and practice of the modern organization. The course will provide an understanding of the key concepts and principles of organization theory and behavior. This course will provide an opportunity for critical analysis of practical application of the concepts identified through the readings and lecture. Prerequisite: BUS201.
BUS400 - Entrepreneurship and New Venture Initiation
(2 credits) This is an upper-level course focusing on student interaction with successful Christian leaders from a broad spectrum of professional fields. Each week, one scheduled speaker will both meet informally with the class and participate in a classroom seminar. Students will maintain a journal of their observations; readings from a variety of entrepreneurial and leadership sources will be required. The student will also be required to participate in the Spring Leadership Conference at NWC and attend off-site experiential activities in the local area. Prerequisite: junior class standing.
Sole entrepreneur, Twisted Willow Farms, 2016-present
Financial manager, Vonk Farms Inc., 2002-present
Adjunct instructor, Northwestern College and Dordt College, 2013-15
Director, Center for Economic Education, Dordt College, 2011-15
Business/social studies instructor, Akron-Westfield High School, Akron, IA, 2002-09
Computer/business instructor, Roosevelt High School, Sioux Falls, SD, 2000-02