Dr. Reed Mueller Professor of Psychology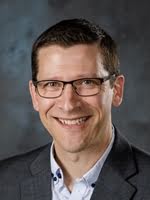 Education:
Ph.D., Brigham Young University
B.A., Pacific Christian College
712-707-7077
reed.mueller@nwciowa.edu
VPH 211B
Dr. Mueller comes to Northwestern from Bushnell University in Eugene, Oregon, where he served as program director and professor of psychology. Prior to his work at Bushnell, he served as professor and chair of social and behavioral sciences at Concordia University-Portland, where he was selected by students to receive teaching awards three times. In recent years Mueller has worked on funded projects focused on educational change with a view to social determinants of health in Oregon. More recently, he has focused on developing a valid tool designed to enhance college students' understanding of metacognition and information literacy.
PSY100SS - Exploring Psychology
(4 credits)(NWCore option under Self and Society) In this course students learn how, using methodologies such as observation, survey and experimentation, psychological science explores the causes and consequences of human action. An overview of major findings from the field of psychology such as biological bases of behavior, learning and memory, motivation and emotion, human development, personality, intelligence, psychopathology and therapy, the effect of others on individuals will be discussed and students will be encouraged to apply this knowledge to their own views and actions. Students will consider why the integration of faith and science in understanding humans is important and will explore ways of accomplishing this integration.
PSY225 - Developmental Psychology: Adulthood
This course explores psychological issues and theories in normal adult development, with emphasis on cognitive, social and personality functioning from young adulthood to old age.(4 credits)
PSY310 - History of Psychology
(2 credits, non-yearly, consult department) This advanced seminar provides a first exposure to the theory and practice of clinical and counseling psychology. This exposure will include the history of clinical psychology and counseling psychology, the current state of the profession, ethical dilemmas, and controversies within the field. We will also touch on theories of psychotherapy, as well as the integration of Christian faith with clinical practice. Prerequisite: PSY100SS and four additional credits in psychology.
PSY319 - Motivation and Emotion
Why do we do what we do? How do we know what we want and what we need? How do we set goals for ourselves and act to achieve them? These are some of the questions that the psychology of motivation and emotion attempt to answer. This course will examine universal and specific motivations and emotions in the context of physiological, cognitive and affective systems. It will also pursue applications of motivation and emotion to the psychology of addiction, health, coping and optimal functioning.Prerequisites: PSY111 and 215.(4 credits, alternate years, consult department)
PSY360 - Psychopathology
(4 credits) This course will provide a broad survey of what is considered to be disordered in behavior, emotional expression, and cognition in adults. Emphasis will be placed on a scientific view of psychopathology. The two main foci of the course are the (a) description of various behaviors, symptoms, syndromes and illnesses as described in the most recent edition of the Diagnostic and Statistical Manual (DSM) of the American Psychiatric Association, and (b) research and theories concerning etiology including discussion of environmental, biological, social and interactive perspectives. While intervention and childhood disorders will be discussed, they are not the primary focus of this course. Prerequisite: 4 credits of psychology courses.