Dr. Emily Grace Assistant Professor of Physics; Engineering Liaison Officer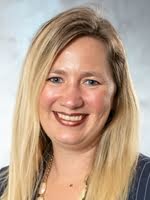 Education:
Ph.D., Royal Holloway University of London
M.S.Ed., Indiana University South Bend
B.Sc. (Physics), Indiana University South Bend
B.A. (Psychology), Bethel College
712-707-7072
emily.grace@nwciowa.edu
SCI 231
After graduating from college with a psychology degree and excelling in a sales career, Emily Grace returned to school to pursue her first love: physics. She earned a master's degree in education and a second undergraduate degree in physics, then earned a doctorate in physics from the prestigious Royal Holloway University of London. While in the United Kingdom, she won a national contest when she wrote and performed a rap to explain her research on dark matter and liquid argon.
Since coming to Northwestern, Dr. Grace has shifted her research focus to AMO physics, biophysics, and physics pedagogy. She is passionate about giving undergraduate students the opportunities to find answers to original questions. Presently she collaborates with Dr. Karissa Carlson at Northwestern College and Dr. Eric Jones at the Laser Teaching Center at Stony Brook University, New York. She is the Principle Investigator with the Pheobe Laser Research Group and the ISLAND CURE collaboration.
Dr. Grace has been a member of the PICO, MiniCLEAN, DEAP-3600, LZ, and LUX dark matter collaborations and the Diocles Laser Research Group. She was a postdoctoral scholar at Pennsylvania State University and a research assistant at Royal Holloway University of London, the University of Nebraska and Indiana University, as well as a visiting lecturer at Royal Holloway. Prior to joining Northwestern's faculty, she was an assistant professor at Sterling College in Kansas.