Franken Leadership Center
As a student at Northwestern, your education in the classroom will be enhanced through the experiential learning opportunities provided by the college's Franken Leadership Center. The center's staff and programs are dedicated to helping you:
Discover your talents and gifts
Realize God's calling for your life
Develop your leadership skills
Grow professionally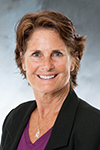 Dr. Sandi Altena '03
Director of the Franken Leadership Center 
712-707-7254  
sandra.altena@nwciowa.edu
As director of the Franken Leadership Center, Dr. Sandi Altena manages the Carlson Internship Program; works with faculty to incorporate meaningful academic service-learning opportunities into courses; develops leadership initiatives; and administers adventure education opportunities, such as first-year experiences for new students.
Altena has a Doctor of Education degree in adult and higher education and a master's degree in leadership from the University of South Dakota. She earned her bachelor's degree from Dordt College.
Franken Center initiatives